OpenShift Commons Gathering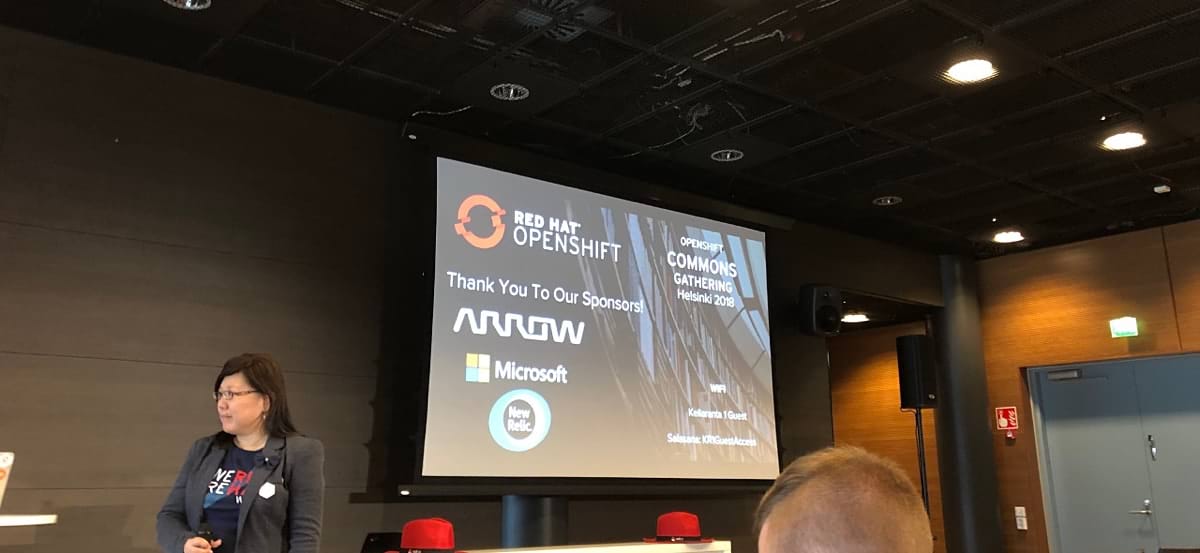 Couple of our OpenShift experts took part in OpenShift Commons Gathering and RedHat Forum Helsinki organized in September. The event was first of its kind here in Helsinki and filled with interesting topics.

New Names, OpenShift v4 And Core OS
The renaming from Origin to OKD was not that much about changes under the hood but rather in branding: as Diana Muller explained, the renaming took place to emphasize the Kubernetes technology involved.

OpenShift v4 was also mentioned: it seems that the new version is about merging Core OS technologies to OpenShift. Three features were especially highlighted: replacement of Atomic Host with minimal RedHat Core OS; RedHat Quay registry, and OpenShift Operator Framework.

The Operator concept has also more into it: it includes an idea of replacing human labor in the lifecycle phase as well – this is called Operator Lifecycle Management, a very interesting concept to be aware of.

One more thing: monitoring improvements were now on a roadmap – we have been using Prometheus for monitoring OpenShift, and it is great to see that the official installation is getting more mature.

OpenShift Cloud Functions
The hype around serverless is getting more and more volume day by day, so it was great to see an almost-ready solution for running serverless on top of OpenShift, called OpenShift Cloud Functions.

Tero Ahonen talked also about Knative, which is another serverless implementation on Kubernetes project, but is backed by Google. As there were several options for container orchestration few years back and now only Kubernetes is left, there is also fragmentation in serverless tools at the moment, and we will find out the best solution in few years.

Pains of the on-premise installation
Three interesting use cases were presented, and I would like to especially highlight Elisa's story, as it resonates with our experiences when helping the customers with on-premise OpenShift installations.

Antti Seppälä presented a story, how their number of Kubernetes installation on top of OpenStack evolved to managed multi-datacenter OpenShift cluster. We, at Cybercom, have also dealt with OpenStack for multiple years, and we were given the same lesson: OpenStack is not the answer for developers' generic automation need, OpenShift/Kubernetes being a better option for that.

Also, as the reference architecture is not complete enough for most of the needs and the documentation lacks clarity, most of us working on the field can relate to adding intranet routers, managing routing to external services and architecturing for high availability.

Read the whole story: OpenShift News from OpenShift Commons Gathering